WELCOME TO CROWS X WORST WIKI
Hello and welcome to the Crows x Worst Wiki, the encyclopedia for Crows x Worst universe, that anyone can edit but will be reviewed by the main Admin. Please feel free to contribute to our site and help us complete our goal to build the most informative site for everything related to Takahashi Hiroshi and his most notable work, Crows and Worst, online. From all the editors here at the Crows x Worst Wiki, thank you for your contributions.
NOTE: Vandalism will NOT be tolerated
"
What's wrong with crows? Compared to a poor bird that's been caged and
has forgotten how to fly, this is much better. I'm fine with being a crow!
"
FEATURED ARTICLE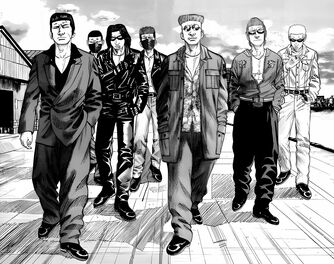 Parko And Dangerers, or P.A.D, was a gang founded by Parko, along with his longtime companions Fujikawa Teru and Kishima Kochi.
Their primary objectives were to deal with the ongoing threat of the Snake Heads, and to address the betrayal by their former best friend, Jinnai Kouhei...
SERIES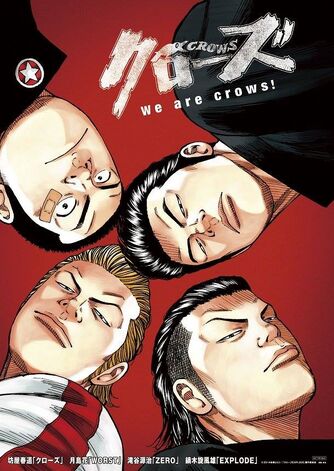 Bouya Harumichi is a new transfer student to Suzuran all-boys high school, a place where only the worst delinquents assemble. Due to its large amount of delinquents who are hated by the general people for their inauspiciousness, similarily to crows, it is also known as "Crows high school". Harumichi is an insanely strong fighter but has a irresponsible personality, how will he act in this new environment where every one is a deliquent? There are 3 extra manga stories related to this series. Crows is a prequel to Worst.
Worst follows the story of Tsukishima Hana. Upon moving to the city from a remote village, Hana takes up residence in a boarding house and soon after enrolls as a freshman in the city's most notorious school, Suzuran All-Boys High. At Suzuran a student's success is measured by knowledge of the streets, not books. Wits and endurance are the only school supplies necessary. Tests are taken on the battlefield, and only those left standing pass.
Hana vows to become Suzuran's one and only leader. Many have attempted, few have come close, but no one to date has achieved total domination. While Hana's true destiny is unknown, it is evident from his first day of class that he will go down in Suzuran's history as a legend. Worst is the sequel to Crows.
Crows has also been loosely adapted into three live-action films: Crows Zero in 2007 and Crows Zero 2 in 2009 (both directed by Takashi Miike) The 2007 Japanese action film based on the manga by Hiroshi Takahashi was directed by Takashi Miike with a screenplay by Shogo Muto. The plot serves as a prequel to the manga, and focuses on the power struggle between gangs of students at Suzuran All-Boys High School.
The films have subsequently been adapted into official prequel manga written by Takahashi with art by Kenichiro Naitou, Tetsuhiro Kirakawa, and Tatsuya Kanda entitled Crows Zero and Crows Zero II: Suzuran x Housen.
(Because of certain references made in the manga Worst, events and characters from the CROWS ZERO series are now considered canon, specifically protagonist Takiya Genji and rival Serizawa Tamao)
Crows Explode is another film that was loosely adapted from Crows and an indirect sequel to Crows Zero II. Crows Explode was directed by Toshiaki Toyoda and was released in 2014. The 2014 Japanese action film focuses on the Suzuran new generations, one month after the protagonist in Crows Zero graduated.
In conjunction with the release of the film, Shōnen Champion Comics published a one-shot prequel manga titled Crows Explode Gaiden, written by Hiroshi Takahashi with art by Tetsuhiro Hirakawa and a new manga adaptation, illustrated by Tatsuya Kanda, was launched in the 2018 November issue of Shōnen Champion.
Children cry in fear just because his looks. QP (real name Ishida Kotori), known across the town as a legend who used to go to Bonten High, has returned after a four year absence. Working at a gas station, he's trying to live a quiet life, but his old best friend Azuma Ryou has something else in mind. Azuma intends to have Kotori stand at the top of the gang he has been building since high school. Despite his best intentions, is QP forced to fall back into his violent ways?
CROWSVERSE MEDIA
Join LoktarOgar's TLs 2 Discord!
Check out Suzuran High forum! (inactive)

LATEST NEWS
A new Worst's spinoff will be released on early 2022. The spinoff focuses on three guys from middle school that will be going different ways after graduating and planning to end their middle school years with a bang.
Collaboration between CrowsxWorst and Puzzle & Dragons returns for 1 week to commemorate the Worst series' 20th anniversary on 7th June to 14th June 2021.